THIS IS COMPLETELY OBSOLETE - FOR HISTORICAL INTEREST ONLY
The
Toronto
Swing Dance
Scene
Hep Cat schedule of Swing Dance events and learning opportunities:
Please note -- This contains an unrated list of dance teachers. Here I try to include every one who says they are a teacher, regardless of qualification. The best and the worst. Some know how to spell Lindy Hop. Some have taken one or more lesson themselves. Some can dance Lindy Hop. Some can teach. Check them out and make your own choices. (Some won't take your money if you don't like their teaching!) If I've left out anything, please let me know. Thanks. Peter
Events are on the Dance Calendar And at least the regular ones are rated, according to Music, Floor, and Atmosphere.
What I do is build infrastructure, which is then used, more or less respectfully, by bars, bands, studios, and other organisations, and individual dancers. In other words, I build a dance community, and actively support the development of swing jazz dance musicians. I do this for its own sake. In return, I reserve the absolute right to be frank and to remain independent.
Swingout Dance Studio now open - 2844 Dundas W. at Keele
(On North Side of Dundas, just East of Keele, 2nd Floor.)
 

 Lindy Hop Lessons on Mondays, Wednesdays, and occasional Weekends
 Lesson Schedule
 Lindy-Hop-Intro-Handout

This intensive teaching series is aimed at people who want to be dancers,
rather than those who are just curious.  The teaching is unconventional,
emphasizing the essentials from the very beginning, and ensuring that
students never develop bad habits.  This method produces performance level
dancers in 2-3 months, using and building the students' enthusiasm, rather
than replacing it with drills and rote-instruction.

Connection with partner, music, and universe.  Dancing rather than steps.
Feeling, rather than thinking.  Learning while dancing to music.  Small
class, with constant attention from teacher.  Dance practice following
each class.  This approach recognises that dancing is joy.  Dancing is
playing with your partner and the music.

But this is not suitable for everyone.  Some students need a strong external
structure, where they are told exactly what to do and how to do it.  Some
students need to feel that learning is hard, painful work.  Some folks
insist that dancing is steps and moves and feet and brains and routines.

If the music makes you want to dance, if you are comfortable in your own body,
and dancing with a partner.  If you feel the music, have a positive, playful
attitude, and are not too shy to learn to move in new ways, and if you have
the time and interest to spend on learning to dance this great dance, this
series is for you.


---
Introduction
Swing music is music in the tradition of Jazz from the Swing Era. It started in the late 1920's and flourished until the early 1940's. The great dance bands of the era were Chick Webb, Count Basie, Jimmie Lunceford, Cab Calloway, Duke Ellington, Fats Waller. Louis Armstrong, and many more. Swing dancing is dancing that evolved with Swing music in the ballrooms of Harlem. This dance is called Lindy Hop. It has European and African roots, and its fore-runners were European turning dances, as well as such African-American Jazz dances as the Charleston and the Black Bottom. It is closely related to Ragtime and Blues dances, and to Tap. Swing music is in 4/4 time and has a strong 8-count rhythm. Swing dancing follows Swing music very closely. The dancers improvise and syncopate just as other Jazz musicians do.
---
Some close links ...

Toronto Traditional Social Dance Calendar This calendar contains the best regularly scheduled and special Lindy Hop dance events.

Lindy Hop Introduction Lesson Notes
Globe&Mail and Toronto Star on Swing Dancing
Flare TV at the Hooch
Eye Magazine Cover Story - Toronto's Swing Kids - 06.11.98
The Hog Town Hep Cats performance group -- Genuine Swing Jazz Dancing in Toronto
(discontinued): Thursday Swing Jazz Dance Nights at Gypsy Co-Op -- Press Release
Call Peter at 323-1300 for information on the above
(the rest of this is under construction ...)
---

     "The Physics of Dance" by Kenneth Laws -- persuasive arguments for the
     importance of sprung floors to save knees, hips, and backs.  Landing on
     an unsprung floor (for example, concrete) after a jump that raises your
     center of gravity 2 foot, can result in a force of 240 Gs on landing.
     In other words, a 110-pound woman would land with a force of 13.2 tons.


Bands

Lindy Hop Teachers

Dance Venues



---




Swingin' out ... time line


Jan 99 -- Ted's Wrecking Yard swings out
Jan 99 -- Cameron House Tuesdays swings out
Jan 99 -- Gypsy Co-Op Hooch swings out (Oct 1997 - Jan 21, 1999)
Feb 99 -- Hangar swings down to "once a month"
Feb 99 -- Swingers first Toronto Bar to charge cover for post-Swing DJ
Mar 99 -- Swingers voted "best nightclub" by Eye Magazine
Mar 99 -- Swingers swings out
Apr 99 -- Hangar swings out
Apr 99 -- Molinaro swings out
Apr 99 -- Fox and Fiddle swings out
Apr 99 -- Mr Slate swings in ... sports bar, CW teacher, o.k. dance floor
May 99 -- Fly swings in ... glass and metal decor
May 99 -- Berlins swings out
May 99 -- Bohemian Cafe swings out
Jun 99 -- Down One swings in ...
Jun 99 -- Lava swings out (Jun 13 was last Sunday with JATBM)
Jul 99 -- Courthouse swings out (Jul 8 was last Thursday with JATBM)
Jul 99 -- Palais Royale Swing Fridays (Jul 9 ... )
Jul 99 -- Sat night DISCO displaces Big Bands at Palais Royale (advertises "swing")
Jul 99 -- Down One swings out ... (Jul 12 last time)
Jul 99 -- Fly swings out ... (Jul 22 last time)
Jul 99 -- Abra Cadabra  swings out ... (Jul 29 last time)
Aug 99 -- Chick'N'Deli drops Tyler (Mondays)
Sep 99 -- Courthouse 30's 40's Lounge (Sep 9 ...) Alex Pangman (not called Swing nor dance)
Sep 99 -- Chick'N'Deli drops JATBM (Wednesdays)
Sep 99 -- Cameron House, Michael Johnson opens Tue Sep 28
Oct 99 -- Bradley & Bouncers on Monday nights at Reservoir Lounge
Nov 99 -- La Classique does ECS with JATBM and a Disco Band!  (opens Nov 25)
Nov 99 -- Swing Fridays at Palais Royale Ballroom ends Nov. 26 after 5 months.  
Dec 99 -- Fire at the Palais Royale Ballroom!
Dec 99 -- La Classique ends "swing"
Dec 99 -- Mr Slate ends "swing"
Dec 99 -- Prof. Piano cancels New Year's Eve swing show

Jan 00 -- Tranzac Club Jazz Brunch starts Jan 23
Jan 00 -- Tranzac Club Jazz Brunch ends Jan 23
Feb 00 -- Silver Dollar JATBM starts Feb 3

Swing Music on the Radio in Toronto



*Good* *Cheap* Swing Music you can buy in Toronto


HMV, Sam's, Tower Records, "The Concert Hall in the Don Mills Centre".

      $30 4x Let's Swing compilation (40 songs) purple
      $30 4x Jazz & BIG BAND compilation (80 songs) purple
      $30 4x K-tel SWING time compilation (100 songs) blue
      $9 Swingsation - Lunceford, Fitzgerald, Barnet&Dorsey

and further afield ...

Really Swingin'


Drive Entertainment Online Music Record store (more to come) ... Books about Swing Music and Dancing Swing Music on the Net
---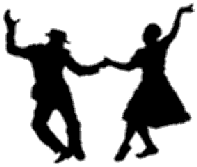 ---
Dancing.Org Peter Renzland Toronto (416) 323-1300 Peter@Dancing.Org